It was October of 2010 at East Fort Worth Montessori and the necessary steps to build a productive and beautiful landscape began to unfold.
The landscape was ripe for development and teaching. The children were learning about soil erosion and the decomposition of rocks and minerals. We walk past it everyday and barely realize the changes that occur around us in our environments. The earth is living and breathing. Look around for a moment and you'll see the massive amounts of erosion and soil depletion that's occurring.
I digress.

The Assessment
Our assessment began on a hillside that was speeding up the process of soil erosion. To slow the process down, we followed a few simple steps to slow water down, create a habitat for soil microorganisms and plants, and cover cropping.
1. Rock barrier
2. Mulch
3. Cover Crop
The Barrier
To slow down the flow of water, we dug a small trench along the hill and placed rocks in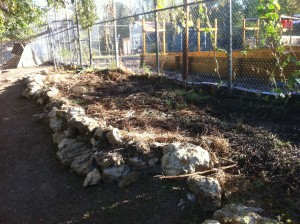 the trench in Octoboer of 2011. This would effectively slow down water and allow it to seep into the soil an water our plants. It would also hold back larger debri and slow down the process of erosion.
Mulch It
We had a small amount of compost. Instead of removing all the big chunks in it, we broadcasted the soil and chunks on the hillside shortly after we built the barrier. In my opinion, the big pieces provide a good habitat for the FBI, fungi, bacteria and insects. The modern perspective is to bury plants with fine compost. We often forget that soil has a complex structure that has a good mix of plant appendages and dying organisms.
Cover Crop
Red Clover is a good nitrogen fixing crop that is also edible. Nitrogen is an essential nutrient for all living organisms. This element is necessary for our genetic makeup in our DNA, amino acids and proteins. In plants, Nitrogen is in chlorophyll, the plant organ that captures the energy of the sun. Many people may see it as a weed but it's a great way to build soil and prevent erosion. We spread the seeds in November of 2011 and the progress has amazing. The clover went to seed, became mulch, and we can re-broadcast if necessary for the Fall season of 2012.